We visited Oudenaarde for the first time in September 2002. We had our most recent visit in September 2005.
Market Square
A slightly different view of the market square, showing more of the buildings.
Town Hall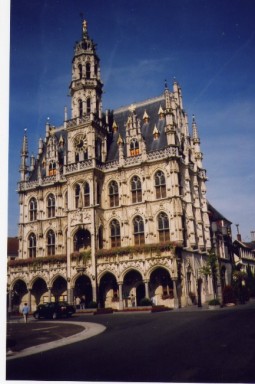 The Oudenaarde Town Hall, located on the market square.
Close View of Town Hall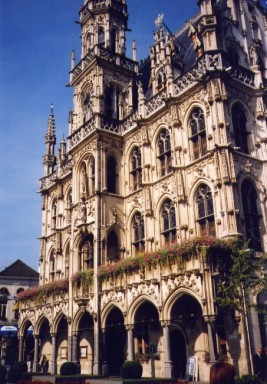 A closer view of the Town Hall, showing the beautiful, ornate stonework of the building.

Oudenaarde is located in East Flanders. It is a quiet, pretty town with an ornate market square. It is well known for beer, largest breweries are Liefman's who brew many Flemish brown ales such as Goudenbrand, Frambozen (containing raspberries) and Kriek (containing cherries) and an ale called Jan van Gent and Roman, who brew the Ename abbey beers and Sloeber, among others. Sloeber and Ename can be difficult to track down in Belgium.

Oudenaarde is also famous for its tapestries.