The aircraft pictured below is OO-SYG, of the defunct Belgian airline Sabena. This was taken in Brussels Airport on 13th September 2001, as the aircraft was being prepared to fly flight SN2177, the 14:45 departure from Brussels to Manchester. Shortly after the photo was taken, I boarded this aircraft for my last ever flight with Sabena.
Sabena Boeing 737-500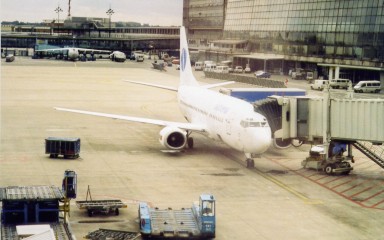 OO-SYG photographed in Brussels Airport
Belgian transport features heavily in my visits to Belgium. From flying to and from the country on Belgian airlines, to travel inside Belgium on Belgian railways.
The Fokker 50 OO-VLV, pictured below, operated my flight (VG104) between London City and Antwerp on 1st September 2003. Photographed as the aircraft was being prepared at departure gate 5.
VLM Fokker 50 OO-VLV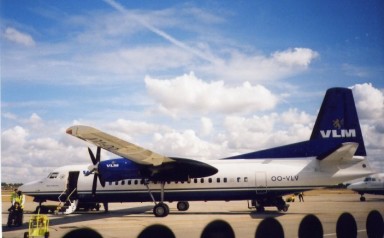 The Fokker 50 of VLM at London City Airport, 1st September 2003